on Tue Feb 28, 2017 3:32 am
Our company Blink Commercial Group, working as an exporting company and trade different kinds of agricultural commodities, like seeds, grains, beans, cereals, bran, flour, oils etc. The products we offer are basically from the Black Sea region, from Ukraine - one of the world's biggest supplier of grains, cereals and oils, Moldova -  the country where our business is set, Russia, Bulgaria etc. I hope you will interest to work with us. If you interested, contact me for more details.  
Best Regards.
Contacts
Address : Constantin Brincusi 124/1 Street, 6th Floor
Telephone number : +373 22 10 65 12
Cell phone/ Viber : +373 78 787 512
Skype ID : nicolai.bcg
E-mail :
info@blinkcommercialgroup.com
;
nicolai.bcg@gmail.com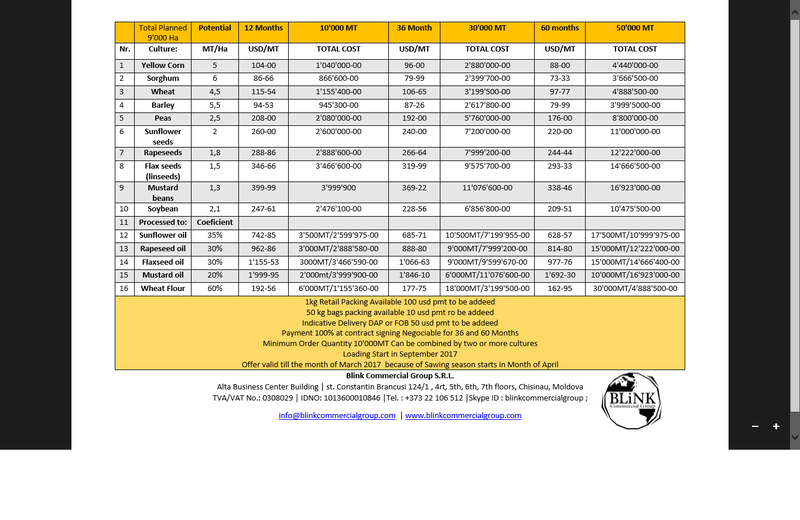 on Sat Apr 01, 2017 2:14 pm
Good day
We need mycotoxin binder 5000 MT/ Month*12 Months & enzyme 5000 MT/Month *12 Months CIF to Bangladesh ?
Pls send your best offer to my mail adress
cenk.berk@outlook.com
Best regards
on Mon Apr 03, 2017 11:49 am
We need GMO maize 5000 MT X 12 months on CIF Maputo at $149/MT.

Please send your best offer to us asap.

Best regards,

Shambhu Kumar

Permissions in this forum:
You
cannot
reply to topics in this forum