on Tue May 23, 2017 3:56 pm
Dear Sir, good afternoon.
We are offering you a new business opportunity with the supply of SUGAR IC 45 of Brazilian origin.
Here are the prices and conditions for your analysis: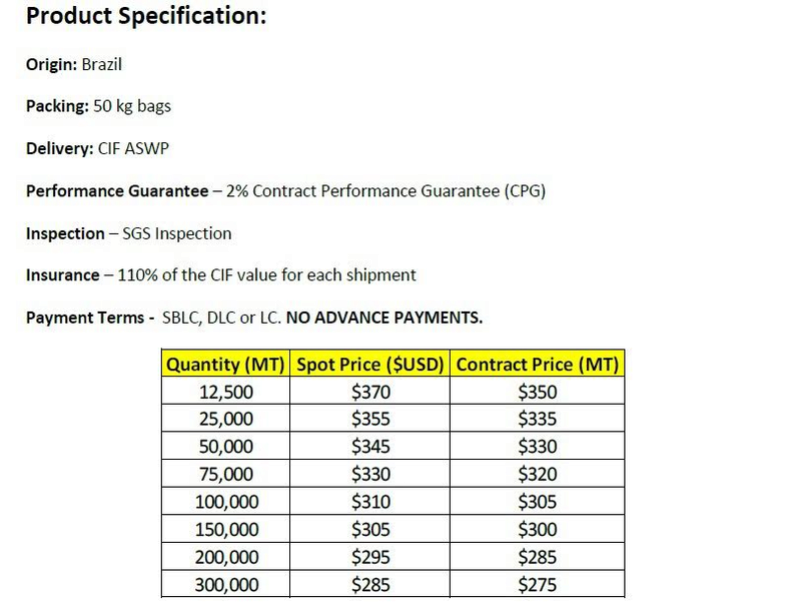 If it is in your interest, we can make an operation of 12,500 / mt x 12 at a price of USD 345.00 / mt at experience level.
We wait for your comments.
Have a nice day!
Sérgio Oliveira - CEO
Skype: oigresedu
on Tue May 23, 2017 4:03 pm
on Sun Jun 11, 2017 12:35 pm
We produce and supply refined sugar IC45, IC150, IC600 and IC1200.
We also work with coffee, soy, corn (human and animal consumption), wheat and animal feed.
We deliver at any port in the world in the form CIF.
* These are our values for the SBLC MT 760 payment method.
SPOT –
12,500 MT  = 340 USD
25,000 MT  = 335 USD
50,000 MT  = 330 USD
100,000 MT  = 320 USD
CONTRACT
12,500 MT x 12 MONTHS = 310USD
25,000 MT x 12 MONTHS = 305 USD
50,000 MT X 12 MONTHS = 300 USD
100,000 MT X 12 MONTHS = 295 USD
300,000 MT X 12 MONTHS = 289 USD
For more information contact:
Email:
fabianop.hott@gmail.com
Skype:
fabiano.ph
Linkedin:
https://www.linkedin.com/in/fabiano-p-hott/
on Sat Jun 24, 2017 1:46 am
Dear Sir/MA
We are international financier, trust Consultant of worldwide development prime lending's.We are Specialist of funds, loans, bank guarantees. We are working with large lending's affiliated to a corporate consortium group operators and providers of Bank Financial Instruments. Through this large lending's,Trade group consortium, we can arrange the following services as their trust consultant.
Worldwide project financing, Loans,BG,SBLC,MTN,POF,LC,SKR Discounting,Project Funding,Letter of credit, and lots more for investors
If you are interested contact us immediately by Email
Thank you
BROKERS ARE WELCOME & 100% PROTECTED!!!
Regards,
Rajnesh Gounder
Email:grounesh.advisory1@gmail.com
Skype ID:
grouneshadvisory14@gmail.com
on Wed Oct 25, 2017 10:27 am
Dear Sir,
I am authorized seller mandate with official letter from a trading company in Brazil who can supply sugar ic 45
We can supply sugar ic 45 150.000MTX12 in $ 270 usd CIF with payment by LC validated by 12 months and revolving, tranferable, conditional, 100% at sight with payment at destination port. To accept 100% payment at destination port we need LC from bank top 50 and validated by 12 months and revolving month by month.
Any interest do not hesitate to contact me,
Thanks,
Ceesar Martinea
majjoni11@yahoo.com
on Wed Nov 01, 2017 1:54 pm
Those who says are direct with the mills are liers or doen´t lnow a thing about sugar market.

120% of the sugar production is already sold, the mills will have to struggle to attend all the contracts they have. If you have a real and good supplier, than you are fine.

The price of sugar is based on NYBOT (VHP) or LONDON (IC45). There´s no miracle, prices informed here are totally fake.

If there´s any serious buyer that wants sugar at a good MARKET price, please talk to me. I work only with containers.

Best regards
on Wed Jan 24, 2018 1:47 pm
Hello & Happy New Year Everyone!
We now  offer up to 90 days deferred payment by LC after sending the shipping docs to the buyer's bank. This is for Brazilian Cane Icumsa 45 sugar.
This gives the buyer time to resell the sugar before paying us back.
LC must be issued or confirmed by a top 25 prime Bank for this type of payment.
Current pricing (subject to change) for the following spot orders are:
12,500 MT's. -$405/Mt CIF ASWP
25,000  MT's -$395/Mt CIF ASWP
50,000 MT's -$390/Mt CIF ASWP
Price includes $4/Mt commission.
We also regularly have HSS shipments.
Contact us for any further inquiries,
Michael Fredrick
Sales Manager
The Samora Group, LLC
1077 Silas Deane Highway #202
Wethersfield CT 06109 USA
Telephone #: +1 860 554 0630
Cell #: +1 860 985 4705
Fax #: +1 860 986 6357
Email:
Sales@TheSamoraGroup.Com
Alternate Email:
TheSamoraGroup@Gmail.Com
Business Hours: Monday-Friday 8.30am-4pm EST
Website:TheSamoraGroup.Com
Skype: Samoragroup
Twitter:Samorasugar (follow us)

Permissions in this forum:
You
cannot
reply to topics in this forum